GRAVESIDE SERVICE
A service held at the graveside of the cemetery of your family's choice.
We specialise in graveside services all over South East Queensland, whether in Brisbane, the Gold Coast or the Sunshine Coast. We have access to every cemetery in the region.
Whilst we have a head office facility based in Oxley, Brisbane, we have mortuary facilities on the Gold Coast and Sunshine Coast. Locally based professional staff are ready to arrange a graveside service at any South East Queensland cemetery, at any time you need.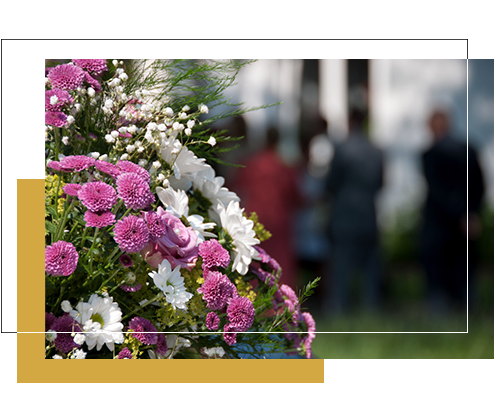 A graveside service is simple and cost-effective. It is a peaceful way to farewell your loved one in a leafy, natural location.
Over many years, Queensland Discount Funerals have received feedback from families. When a burial is chosen, most families prefer the simplest coffin rather than expensive, fancier options. Therefore, the coffins we provide are made of the simplest material with no colour or stain. They are designed to be on display for a short time at the burial. We also provide you with a cover for the coffin giving it a brighter and more pleasing appearance when in place at the graveside.
* Please note: Cemetery costs and the opening and closing of existing graves are not included in the above graveside service costs.
What's included:
Our professional fee to carry out the graveside service at a cemetery of your choice in South East Queensland, Brisbane, Gold and Sunshine Coasts
Compassionate and professional staff to manage a peaceful, simple graveside service for your loved one
Funeral arrangements in the comfort of your own home or via phone/email if you choose
The hearse that conveys your loved one to the graveside service
Preparation and dressing of your loved one by our qualified staff
The simplest of coffins with one of our uniquely designed palls of your choice
An attendance book for mourners to sign
Viewing on the day prior to service at one of our facilities in Brisbane, Gold Coast or Sunshine Coast
Death certificate for your family's legal purposes
Goods and Services Tax
Available Options
The costs above are the basic expenses required to have a funeral. There may be additional, special things that your family may or may not need or want. We have created a list below to assist with additional extras and costs.
| Description | Cost |
| --- | --- |
| Civil celebrant of your choice or sourced by us | 375.00* |
| Clergy costs may vary from different denominations, but usually… | 375.00* |
| After hours transfer of the deceased if required (Business hours are 8am – 4pm) | 440.00 |
| Funeral notices regardless of publication | At Cost |
| Flowers | $180 avg |
| All prices are Inclusive of 10% GST | |
Church Funerals
We are happy to engage a church of your choice to accommodate your loved one's service.
Extra staff, vehicles and time will be required, and extra costs will apply.
440.00
| Out of Hours Services | |
| --- | --- |
| Saturday funerals (our charges only: the cemetery will also cost more) | 495.00 |
| Sunday funerals (our charges only: the cemetery will also cost more) | 695.00 |
"Having served the Australian people for nearly 20 years, I am convinced that cost effective funerals can really ease the burden at the time of loss."
DISCOUNT FUNERALS QUEENSLAND